What are the structural characteristics of steel crawler chassis
The steel crawler chassis is composed of hydraulic travel reducer, steel
Rubber tracks series
crawler, chain rail, driving wheel, guide wheel, roller, sprocket, tensioning mechanism, etc. The steel crawler chassis has the characteristics of compact structure, reliable performance, durability, convenient operation, simple maintenance, low energy consumption and good economy. Horizontal directional drilling rigs, excavators, slag dischargers, roadheaders, aerial work platforms, agricultural machinery and other fields.
4-STROKE ALL TERRAIN TRACKED TRANSPORT VEHICLE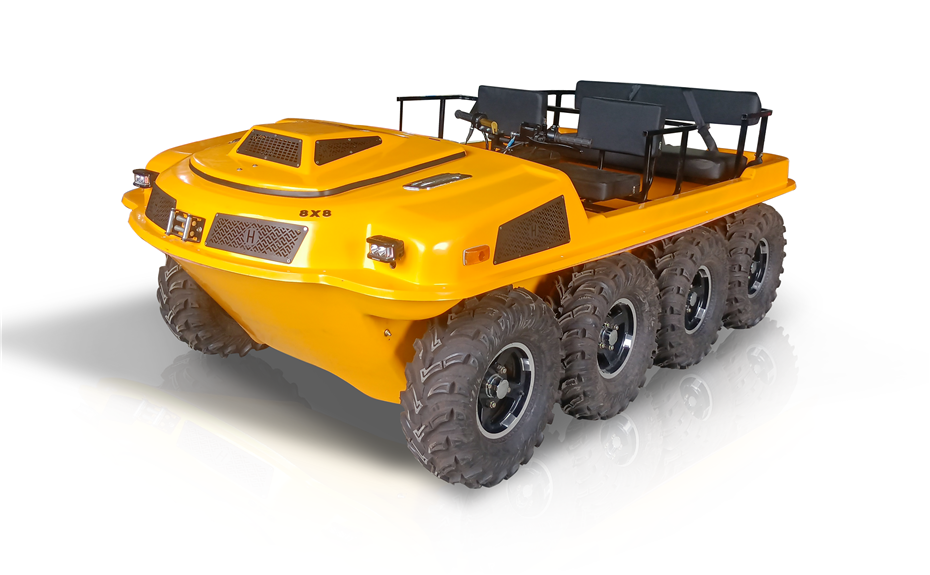 8x8 Amphibious All-Terrain Vehicle adapts 8x8 all-wheel drive, differential speed for braking and turning, continuously variable transmission, wholly sealed vehicle body and aquatic propeller-driver. It is able to climb the slope of 45°, rotate for semicirce. It can run at a high speed of 50km/h, and stat up in ultra environment with differentail temperature ±45℃ celsius degree and remain running for a long time. Additionally, it can also keep running fast over such earth's surfaces. Based on this vehicle, a new design for fire fight is came out which called 8X8 Amphibious Fire Truck.
Structural features of steel crawler chassis:
1. Support the weight of the main engine and have the function of turning forward and backward;
2. The steel track is produced by Japanese advanced technology, with strong bearing capacity, large traction, low noise and good driving performance. Rubber track shoes can be installed to avoid damage to asphalt pavement;
3. Single-speed and two-speed travel motor assemblies can be freely selected, with large output torque and fast travel speed;
4. The chassis steel structure has high strength and good rigidity, and is processed by laser cutting and CNC bending;
5. The rollers and guide rollers use deep groove ball bearings, which are lubricated with butter once to avoid maintenance and refueling during use;
6. The shaft end double seal structure ensures that the lubricating oil seal will not leak, and can prevent muddy water from entering the wheel cavity;
7. The teeth of roller, guide wheel and driving wheel are all quenched by alloy steel, which has good wear resistance and long service life;
8. The elastic micro-tension mechanism adopts screw adjustment, which has high reliability.